Recommended Autumn Leaf Spots by UU Hokkaido
You can enjoy the longest autumn leaves season in Hokkaido from mid-September around Daisetsuzan mountain area and for a month and a half from late October to early November in Hakodate in southern Hokkaido. The characteristic feature is the mix of green coniferous trees.
We've divided Hokkaido into five major zones, and we'll introduce you to 14 places where you can enjoy a walk and experience in each. The autumn leaf season in Hokkaido is a combination of three activities including cuisine, hot springs, and sightseeing. You can also enjoy the "tastes of the sea and mountains".
Search by area
Autumn leaf spots near New Chitose Airport
Autumn leaf spots near Asahikawa Airport
Autumn leaf spots near Hakodate Airport
Autumn leaf spots near Kushiro Airport
Autumn leaf spots near Memanbetsu Airport
How to enjoy the autumn leaves
Take a walk while looking at the walking map
Each page has a walking map attached to it. On this map, the trails are marked.
Please walk in the order of ① to ⑤. The map is also marked with a 4-digit number.
Use your smartphone to scan the QR code on the map in the printable PDF and enter the 4-digit number. More detailed information is available.
It's also refreshing to rent a bicycle to get around. After your walk, take a dip in one of Hokkaido's famous hot springs to rest your body and massage your feet.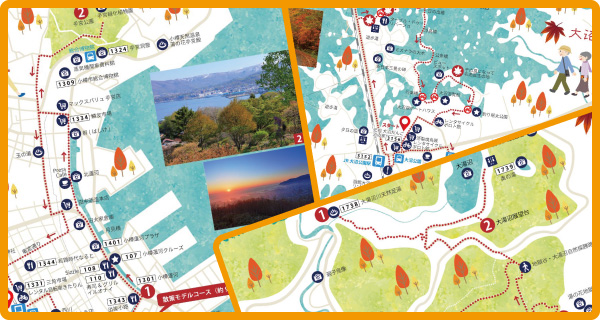 Activities around Autumn leaf spots
Autumn leaves and activities go together perfectly. River rafting, rafting, canoeing, autumn leaf gondolas, horse trekking, biking, mountain climbing, lure fishing, forest walks and stargazing can be enjoyed in many places.
When you hold the fallen leaves in your hand, you can feel the vitality of each one and the layers of leaves under your feet create a fluffy carpet. The colorful natural phenomenon is empowering.
Enjoying a hot spring in autumn leaves
After walking through the autumn leaves it is time for a steamy hot spring. And speaking of steamy hot springs, it's perfect with local cuisine.
Here are some of the hot springs and hotels that can be accessed by bus. Detailed directions are convenient. There is also plenty of information for sightseeing around the area.
Check out Lake Akan, Lake Toya, Jozankei, Niseko, Hakodate, Kikonai, Kitamitsubetsu, Higashikagura, Onneyu, Tokachigawa.
All hotels take measures to be COVID-19 safe. You can ask questions and make reservations from this website.
The following is a list of recommended day-trip hot springs in each area.
Enjoy Hokkaido's cuisine
We recommend walking through the autumn leaves and enjoying a take out meal or taking a break at a cafe.
With quick and easy sweets or bread, you can stroll around with a map in hand and relax on a bench at an autumn leaf spot, or walk a little further and enjoy some local cuisine.
The following is a list of recommended gourmet food information in each area.
Search by the photos you're interested in